Children's Miracle Network Partners Fund Pediatric Transport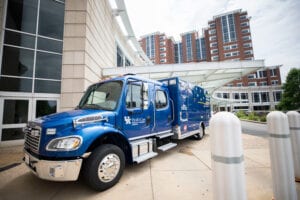 On June 10, 2020, UK HealthCare Neonatal and Pediatric Emergency Transport gained its newest team member – a bright blue truck proudly funded by Children's Miracle Network partners. 
This emergency vehicle will transport newborns and children from rural Kentucky hospitals and emergency rooms to Lexington for cutting-edge treatment from UK HealthCare's medical experts. Money for the vehicle was raised by Walmart, Sam's Club and Dairy Queen locations across Kentucky. 
This is no typical ambulance – it holds equipment specifically designed for children. The monitors, defibrillators, IV pumps, and medications used in Intensive Care Units are on board this vehicle to provide patients with immediate care. It also has a state-of-the-art loading system that will allow for stable transport of two patients simultaneously.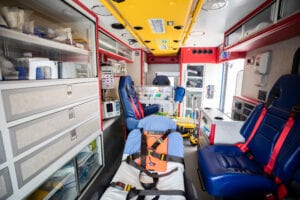 Annually, the Neonatal and Pediatric Emergency Transport brings up to 470 newborns and 260 critically ill or injured infants and children to Lexington. The team of critical care nurses, emergency medical technicians, and 24/7 transport specialists is grateful for the Children's Miracle Network funds that will empower them to provide better care than ever before. 
Walmart, Sam's Club and Dairy Queen worked tirelessly throughout 2019 to raise money for the ambulance. Register round-ups, customer donations, Miracle Treat Day, and other programs made this innovation possible. Children across the state are grateful to our partners for their dedication. When you donate to Children's Miracle Network, you make equipment like this possible for Kentucky's kids.