Buy a Miracle Balloon at Dairy Queen® July 27—August 31, 2020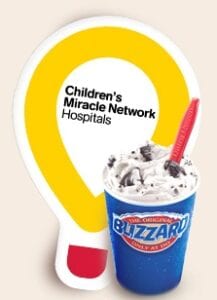 Bring healing and happiness to Kentucky Children's Hospital when you purchase a Miracle Balloon at participating Dairy Queen® locations July 27—August 31, 2020.  
At participating Dairy Queen locations around the state, buy a balloon while dining inside or at the drive thru.  Look for the balloon and ask your associate how to donate! Every donation will help Kentucky Children's Hospital provide best-in-class care for children and their families. 
Care for kids like Kase Chaney, the youngest child to have his airway reconstructed at Kentucky Children's Hospital. 
Fans of participating DQ locations in Harrodsburg, Stanford and Russell Springs, KY, can purchase $5 Miracle Balloon coupon books to pledge support and receive $45 worth of discount coupons good for food or drink on their visit.  
Since 1984, DQ has been a partner of Children's Miracle Network Hospitals, raising more than $889,233.43 for Kentucky Children' Hospital. Join this Children's Miracle Network partner in making miracles in your local community by purchasing today!