Kentucky Children's Hospital Ranked Twice Nationally by U.S. News & World Report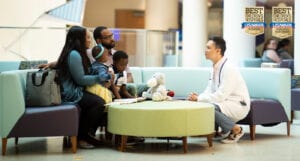 Supported by efforts from Children's Miracle Network partners, Kentucky Children's Hospital has ranked nationally in two specialties in the U.S. News & World Report 2020-2021 Best Children's Hospitals rankings.  
As the global authority in hospital rankings, U.S. News & World Report ranked Kentucky Children's Hospital in two specialties: pediatric cardiology and heart surgery, as well as pediatric orthopaedic care. 
The Joint Pediatric Heart Program between KCH and Cincinnati Children's Hospital is ranked 14th in the country in pediatric cardiology and heart surgery. This one-program, two-sites approach provides Kentucky's children with a full spectrum of advanced heart care, all the way from diagnosis to post-surgical care. 
Ranked 40th nationally for pediatric orthopaedic care, KCH, in association with Shriners Hospitals for Children Medical Center, provides multi–disciplinary expertise on a wide range of bone and joint issues. For over 35 years, pediatric orthopaedic surgeons and anesthesiologists from both institutions have worked together to provide advanced care for Kentucky's children. 
The active support of Children's Miracle Network partners across the Bluegrass have helped make these distinctions possible. Children's Miracle Network funds have supported multiple programs and initiatives at KCH. We are grateful to our partners for aiding KCH in its mission to provide expert care to kids across Kentucky.