IHOP and Kentucky Children's Hospital Celebrate National Pancake Day 2020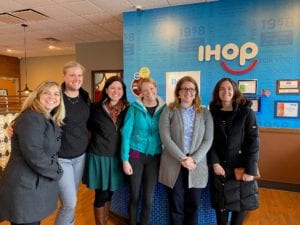 On February 25, 2020, IHOP and the Kentucky Children's Hospital celebrated National Pancake Day! IHOP restaurants in Lexington, Richmond, Ashland, and Bowling Green offered each customer a free short stack of pancakes and accepted donations to benefit Kentucky Children's Hospital. Eager customers filled stores from pre-dawn until dusk, making generous donations to change the future of kids in Kentucky.
Throughout the day, several special people made appearances. Alex Francke, crowned 2019's Miss Kentucky, visited both Lexington stores. Alex firmly believes that every dollar donated makes a difference, and she shared that message with customers.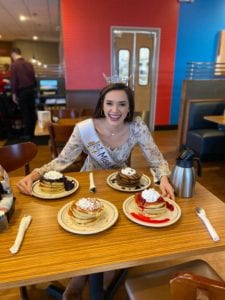 Members of Phi Mu Fraternity at Georgetown College and Transylvania University, as well as Phi Delta Epsilon at University of Kentucky, also generously volunteered their time. WKYT and WTVQ filmed morning TV spotlights, generating media buzz that drew more customers throughout the day. The event was supported by both UK HealthCare and the University of Kentucky family and friends.
This nationwide fundraiser began in 2006. Locally, IHOP stores have raised over $60,000 in support of the Kentucky Children's Hospital. Those funds have supported room renovations, development equipment, and health educational tools. They also fund the Kentucky Children's Hospital Child Life Program, which helps patients cope with the challenges of hospitalization through play and education. The Kentucky Children's Hospital is so grateful for IHOP's continued partnership and support. National Pancake Day 2021 will be even sweeter!