Making Miracles with Love's Travel Stops This Fall!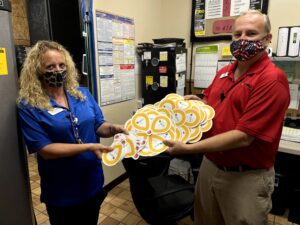 Love's Travel Stops is creating ripple effects that will be felt for years to come at Kentucky Children's Hospital, a member hospital of Children's Miracle Network Hospitals. Through September 30, local Love's locations are raising money to fuel kids' health and their futures across the Commonwealth. 
While visiting your local Love's, you can donate $1, $5, or $20 to make a difference for kids in our community. Through these donations, our hospital can provide treatments and healing that our patients desperately need today so that they can fulfill their potential for tomorrow. 
AND you can make a difference by buying coffee! On September 29, Love's is celebrating National Coffee Day. For any size of Love's hot coffee/hot beverage you purchase on the Love's Connect app, $1 will be donated to change kids' health and change the future at your local children's hospitals, like Kentucky Children's Hospital, because kids can't wait! 
Join Love's and celebrate National Coffee Day by enjoying that extra cup— all proceeds help meet the urgent needs of kids in your local community like Elliott Crittenden. He survived a severe traumatic brain injury and multiple broken bones — thanks to expert care from the Kentucky Children's Hospital team.  
Love's is a family owned and operated company that understands the importance of improving treatments at our children's hospital, so we can address today's most challenging health issues to better prepare for the future.  
Thanks to you and local Love's locations for helping change kids' health and change the future at Kentucky Children's Hospital. Find a location near you!