Love's Celebrates National Coffee Day for Kentucky's Kids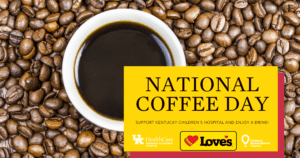 Calling all coffee lovers!  Love's Travel Stops is celebrating National Coffee Day by supporting Children's Miracle Network Hospitals and Kentucky Children's Hospital. 
On September 29-30, 2020, all hot coffee and hot beverages of any size at Love's will cost only $1. All of those sales will go to Kentucky Children's Hospital. Hot drink options include signature house or dark roast blend, Colombian or Brazilian blend, pumpkin spice flavored coffee, pumpkin spice or vanilla cappuccinos and hot chocolate.  
Customers must make the purchase with Mobile Deals through the Love's Connect app; this is available for both professional and four-wheel drivers. Download the app now to donate to Kentucky's kids and enjoy hot coffee! 
Through September 30, Love's customers can also continue to round up at the register in country stores, travel stop gas desks and restaurants as part of Love's 20th annual campaign for Children's Miracle Network Hospitals.  
 Love's has been a Children's Miracle Network partner since 1999, and they have raised $509, 234.43 for Kentucky Children's Hospital. They are committed to providing customers with "Clean Places, Friendly Places" at every stop, and to changing kids' health with Children's Miracle Network.