$1,161,183 Raised in 2020 by Children's Miracle Network Kentucky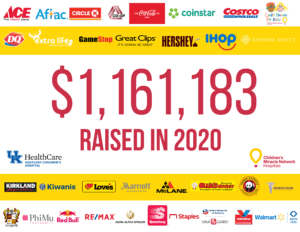 Thank you to our Children's Miracle Network Hospitals partners and donors! Together we raised $1,161,183 for Kentucky Children's Hospital in 2020.
Despite the spread of a global virus, economic turbulence and unprecedented obstacles in every industry, our partners worked tirelessly on behalf of Kentucky Children's Hospital and the kids of Kentucky. Our top fundraisers included Speedway, with $452,118.01, and Walmart, with $372,257.59.
Businesses like Ace Hardware and Costco led round up campaigns in person and online. Panda Express donated meals to healthcare heroes in the COVID-19 unit. Love's Travel Stops offered free coffee to healthcare workers and first responders. Phi Mu Fraternity chapters led highly successful virtual fundraisers. The first annual Give Health for Kentucky Kids—a partnership with Extra Life—engaged corporate partners and gamers with patients and raised over $20,000 in a week-long event. Each partner pivoted in its own way, recognizing that kids can't wait. 
Every dollar will stay local, providing medical education, life-saving equipment and access to patient activities and resources. Every paper balloon and every dollar rounded up led to this milestone, and—now, more than ever—Kentucky's kids are grateful for corporate and donor support. One dollar at time, Children's Miracle Network is changing kids' health and changing the future in Kentucky.